Eugene Thuraisingam LLP
Led by one of Asia's Top 15 Litigators (Asian Legal Business 2022), Eugene Thuraisingam LLP is an award-winning law firm in Singapore dedicated to dispute resolution, international arbitration, and criminal litigation.
BANGKOK BRANCH
Thuraisingam (International) Co., Ltd.
We opened our Bangkok office in 2022 to better serve our corporate and private clients in Thailand and ASEAN. Our practice areas include international arbitration and international white-collar crime. Thuraisingam (International) Co Ltd is centrally located in the Central Business District of early-Sukhumvit.
BANGKOK BRANCH
Welcome to Eugene Thuraisingam LLP
Specialists in Commercial and Criminal Disputes
Commercial & Civil Litigation
Our dispute resolution practice specialises in commercial litigation and civil litigation. We are regularly instructed in complex, high-value litigation conducted in the Supreme Court of Singapore, and have achieved notable successes in shareholder, employment, insolvency, tort, construction, and financial disputes. Our litigators are outcome-driven and are also experienced in alternative dispute resolution mechanisms such as mediation and negotiation.
Criminal Lawyers Singapore
Recognised as the leading criminal lawyers in Singapore, our team specialises in defending all types of criminal offences including complex fraud, bribery and anti-corruption, sexual crimes, and capital offences. We have deep expertise in the conduct of criminal trials and appeals and have secured favourable results for our clients at all levels of the Singapore courts. Our criminal defence lawyers have also acted in many of the landmark cases that have defined modern Singapore criminal law.
International Arbitration
With offices in Bangkok and Singapore, our international commercial arbitration practice is well-placed to conduct cross-border disputes and serve our clients in Southeast and East Asia. We have particular expertise in Singapore International Arbitration Centre (SIAC) arbitrations and the UNCITRAL Arbitration Rules. We are also regularly instructed as counsel in International Chamber of Commerce (ICC) arbitrations and Singapore Chamber of Maritime Arbitration (SCMA) arbitrations.

International Arbitration
Shipping Disputes
Construction Disputes
Trade Disputes

Investigations
Representations & Mitigations On Sentence
Criminals Trials
Criminal Appeals
Public Interest Ligitation

Employment Disputes
Shareholder & Corporate Governance Disputes
Banking & Finance Disputes
Matrimonial Disputes
Insolvency Litigation
Construction Disputes
An award-winning team committed to excellence in dispute resolution, international arbitration and criminal defence litigation.
Following four days of trial in the District Court, the learned District Judge Eddy Tham acquitted a beautician of a charge that she had injected …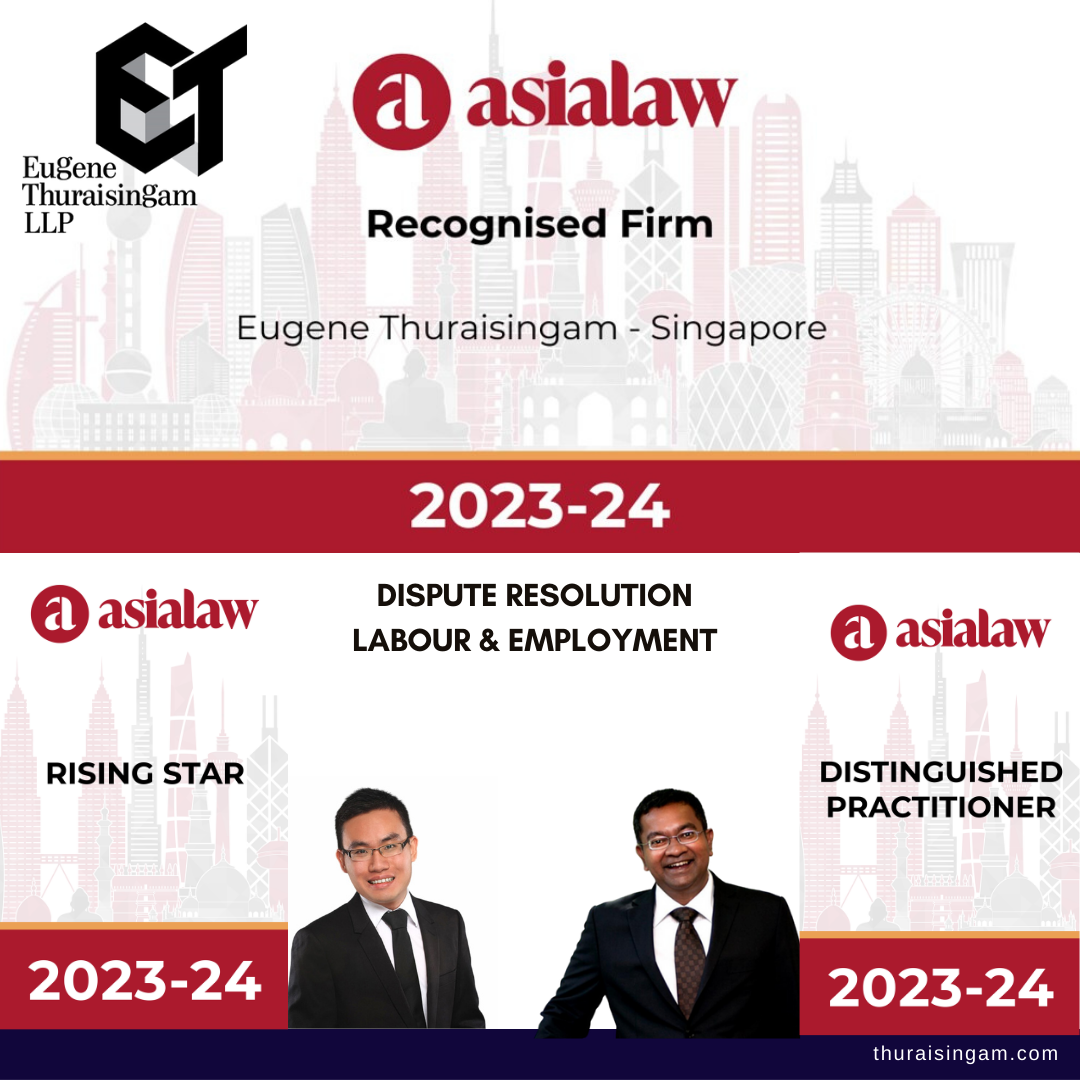 In the 2024 edition of the asialaw publication for leading lawyers, Eugene Thuraisingam LLP has been ranked in the "Recognised" and "Notable" tiers respectively for …